TRATON GROUP

The TRATON GROUP aims to become a global champion of the commercial vehicle industry and consistently pursued this goal in 2020. New partnerships are making future technologies workable for the commercial vehicle business.
BUSINESS DEVELOPMENT
With its MAN, Scania, Volkswagen Caminhões e Ônibus and RIO brands, TRATON SE aims to become a global champion of the commercial vehicle industry and drive the transformation of the logistics sector. Its mission is to reinvent transport for future generations, "Transforming Transportation".
The TRATON GROUP reached new milestones in its global champion strategy in 2020. In the all-important North American market, a strategic partnership with the US manufacturer of commercial vehicles Navistar has existed since 2017. At the end of January 2020, the board of management of the TRATON GROUP decided to take the next logical step in the US market by submitting a takeover bid for Navistar, thus rising to the challenges posed by new regulations and dynamically evolving technologies in the fields of digital connectivity, drive systems and autonomous driving. Combining TRATON's strong position in Europe and substantial presence in South America with Navistar's status in North America provides the opportunity to create a leading company with global reach and complementary capabilities. In November 2020, the two partners reached an agreement that TRATON SE would acquire all outstanding shares of Navistar at a cash price of USD 44.50 per share. Expected to be completed in mid-2021, the transaction is subject to the approval of Navistar shareholders, the usual closing conditions and regulatory approvals.
Driving innovation is another pillar of the global champion strategy. In the forward-looking field of alternative drive technologies and as part of their strategic partnership, TRATON and Hino Motors signed a joint venture agreement in 2020 in order to plan and provide e-mobility products. The aim is to persue the development of electric mobility including battery electric vehicles, fuel cell vehicles and relevant components and to create a common platform for electric vehicles including software and interfaces. Through their collaboration TRATON and Hino Motors hope to shorten lead times for future e-mobility products with battery and fuel cell technology.
To play a leading part in the autonomous transport of the future, TRATON also entered into a global partnership with the US start-up TuSimple in 2020. The partnership is the first of its kind in Europe, bringing together a global commercial vehicle manufacturer and a producer of technology for highly automated driving at level 4 autonomy. In a joint development program, TRATON and TuSimple aim to operate a test route between Södertälje and Jönköping in Sweden where Scania trucks are to drive using level 4 driverless systems that almost exclusively take over the driving permanently. As part of the partnership, TRATON has also taken a minority stake in TuSimple.
Commercial vehicles delivered in 2020
PRODUCTION

Units

2020

2019

Trucks

156,297

201,115

Buses

16,729

21,387

Light Commercial Vehicles

18,340

15,903

191,366

238,405
DELIVERIES

Units

2020

2019

Trucks

156,378

205,936

Buses

16,174

21,496

Light Commercial Vehicles

17,635

14,789

190,187

242,221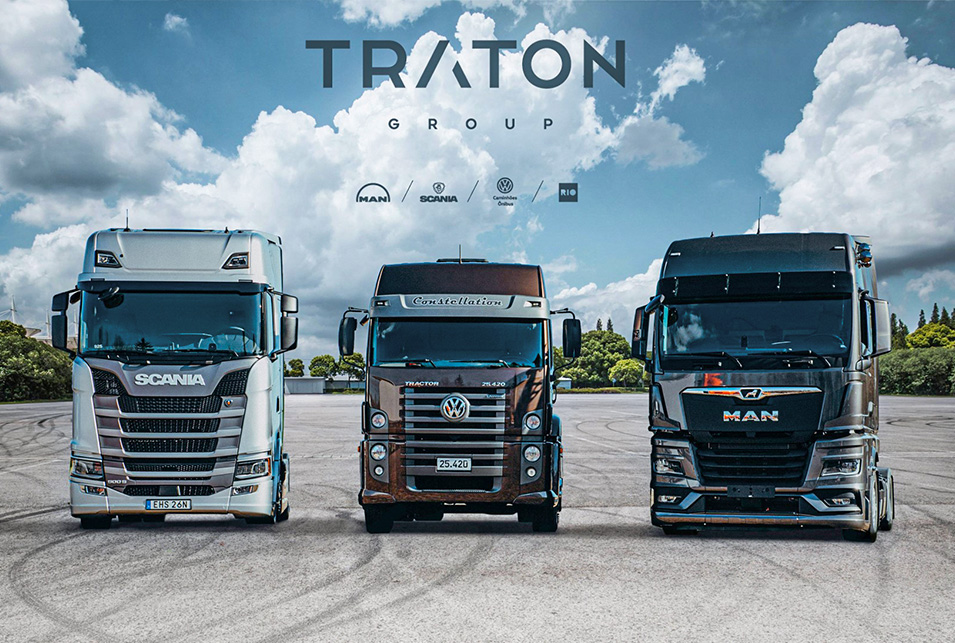 DELIVERIES BY MARKET
in percent