Letter to our Shareholders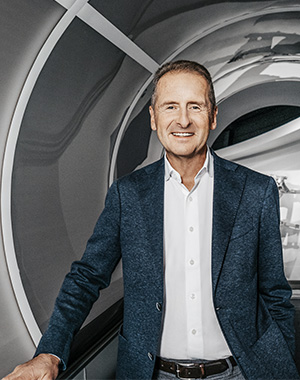 We have had to perform the greatest balancing act in the Company's history in recent months – addressing the Covid-19 pandemic while pushing our transformation into a technology company. Of these two challenges, developing of new digital products, services and customer interfaces was and still is of greater existential significance for our Group.
Data and electricity are driving us now. We are improving the charging experience for our electric vehicles. We are providing over-the-air software updates – including new functions and assistance systems. We are establishing new sales processes, primarily online, and communicating directly with our customers – around the clock, if desired.
Data is the new driving force of prosperity for economies. Its usage strengthens customer orientation and provides safer and more convenient mobility. Digital upgrades and additional services relating to the entire vehicle are creating new areas of business that we are developing. Particularly in fully connected traffic, data will become the basis for autonomous driving, thus redefining individual mobility. This is why we are planning to invest €27 billion, representing about one-fifth of the Group's total capex expenditure, in digitalization over the next five years.
Two flagship projects will greatly speed up the new focus on software and data in the Volkswagen world. Audi will launch a new Group-wide software platform as part of the Artemis project in 2024, starting with the premium segment. The Volkswagen brand will follow suit in 2026 with the Trinity project in the volume segment. These two projects stand for entirely new and completely digitalized electric models. Since July 2020, our Car.Software Organisation has been programming the new vw.os operating system, which will be used for the first time in Artemis. Today, over 3,500 IT experts work in this organization and this number will rise to 10,000 in five years: coding is becoming part of the Volkswagen DNA. In the future, we will continue to keep all activities relating to the brains of the car in-house.
We find ourselves in a new playing field – up against companies that are entering the mobility market from the world of technology, often with virtually unlimited access to resources through the capital markets. Stock market players still regard the Volkswagen Group as part of the "old auto" world. By focusing consistently on software and efficiency, we are working to change this view. The world's most valuable company will become a mobility company once more – and Volkswagen enjoys one of the best starting positions in the "new auto" competition.
In the "old world" of vehicle construction, we have achieved an excellent standard: the construction quality, appeal and functionality of our vehicles are better than ever. The only way to successfully transform Volkswagen into a digital company is by maximizing the return from our traditional business. We intend to reduce the Group's fixed costs by 5% by 2023. Another area of focus is procurement, where we are working to reduce material costs by 7% over the next two years. The brands are improving their profitability through cost-cutting programs. And we are simplifying our portfolio – which is more diversified than ever before – in the right places.
Moreover, our focus on sustainable action will strengthen the Group's resilience. By 2050 at the latest, our Group will achieve net carbon neutrality worldwide – from supply chains to our plants and divisions up to the use of the vehicles by our customers. We have made substantial progress during the pandemic. This means one thing in particular – bringing out more electric vehicles. Overall, the Group tripled its sales of all-electric vehicles to 231,600 units.
The premiere of Volkswagen's ID. family played an important part in this sales growth. Production of the ID.3 and ID.4 began in Zwickau. Since November 2020, the ID.4 is also being manufactured at two newly constructed factories in China. When production of the ID.4 begins in the United States in 2022, the electric SUV will live up to its claim of being the electric 'world car'.
Data and electricity are driving us now.
With 56,000 units delivered, the Volkswagen ID.3 was the Group's most successful electric vehicle in 2020, followed by the Audi e-tron and the Porsche Taycan. We intend to invest around €35 billion in e-mobility over the next five years, plus another €11 billion in the hybridization of our model portfolio. Five years ago we gave the green light for e-mobility in the Group through the decision to develop the Modular Electric Drive Toolkit (MEB). Now this is a core business.
Last year, we significantly lowered the emissions of the Group's fleet in Europe compared with the previous year. In 2021, when the electric campaign is well underway with models such as the ŠKODA Enyaq iV, we will meet the EU's CO2 fleet targets and will go from strength to strength in subsequent years – until we can trade our excess carbon credits for a profit in the near future.
We continued our 40-year success story in China, primarily with a view to achieving zero-emission mobility. By increasing our stake in the Volkswagen (Anhui) joint venture to 75%, we are accelerating electrification in our largest market. We announced our intention to become the largest shareholder in Chinese battery maker Gotion by acquiring 26% of this company. These and other endeavors are helping us to expand our battery expertise at a global level.
The new European Green Deal will increase Volkswagen's battery requirements in 2030. To achieve the political climate targets, all-electric vehicles will have to make up 55% of our deliveries in Europe – significantly more than previously projected. This also means that in addition to our battery manufacturing facility in Salzgitter, we will need two more battery plants in Europe. Volkswagen is prepared for this – and supports the Green Deal as well as the Paris Climate Agreement.
Our commercial vehicle division TRATON is planning to invest €1 billion in electrification by 2025. It is important to note that emissions can be reduced faster in freight transport and local public transport than in the car fleet – using only a fraction of the resources. The global champion strategy was advanced in 2020: TRATON established an e-mobility joint venture in Japan and announced the acquisition of US manufacturer Navistar, while Scania launched its first production facility in China. The groundwork for enhanced efficiency in Germany is being laid at the same time: MAN started to increase its competitiveness through restructuring to be better positioned for the transformation, because there will also be electric and self-driving trucks and buses.
In 2020, a year overshadowed by Covid-19, many of our employees worked for the common good to help contain the pandemic. Volkswagen South Africa converted a former factory into a hospital. In Spain, SEAT manufactured respiratory equipment. ŠKODA in the Czech Republic and Lamborghini in Italy produced surgical masks and face shields. The Group provided €40 million worth of relief supplies, sought out producers in China and arranged transport to Europe.
At the same time, we were able to ensure safe working conditions in production with a 100-point plan, maintain global supply chains, and safeguard our liquidity, primarily through targeted warehouse management. Volkswagen showed itself to be robust and capable of excellent performance in a year that saw the biggest crisis in decades. As of the close of the year, the Group recorded around 15% fewer deliveries year-on-year, but saw its global market share increase slightly. Operating profit before special items came to €10.6 billion in 2020. Net liquidity of €26.8 billion – an increase of 25.9% year-on-year – underscores the Group's outstanding solidity.
I am very proud of what our more than 660,000 employees have achieved in these challenging times. While balancing the pandemic and our transformation, we achieved the best sentiment rating in the annual employee survey. We have implemented positive changes in our corporate culture. This was also confirmed in September 2020 by the final report of the team of the US Monitorship, with which we worked for four years on improving processes, creating more transparency and reducing hierarchical thinking in the Group. I would like to sincerely thank our employees for their hard work. Thanks also to you, our shareholders, for your support.
In 2021, following changes on the boards of management of our brands and with Murat Aksel, Arno Antlitz and Thomas Schmall as new members of the Group Board of Management, we are starting out with a new, powerful team. I will consistently remain committed to securing a higher return from our traditional business and concentrating fully on software expertise. There is a lot to do at Volkswagen, to decide, to change – for we will undergo more transformation in the next ten years than we did in the last fifty.
The transformation to a climate-neutral, software-driven mobility group will progress quickly in 2021. I look forward to your continued support on this journey!
Sincerely,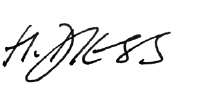 Herbert Diess