Production
The international, cross-brand production network enables the process from the supplier to the factory and assembly line, and from the factory to dealers and customers. Enduring efficiency is a prerequisite for our competitiveness. To be able to meet the challenges of the future, we rely on holistic optimizations, forward-looking innovations, flexible supply streams and structures, and an agile team. In fiscal year 2020, the global vehicle production volume was 17.8% below the previous year's level, reaching 8.9 million units. This was primarily attributable to the global spread of the SARS-CoV-2 virus and the measures taken to contain the pandemic, such as temporary closures of factories or reduced factory output, particularly in the first half of 2020, due to interruption to supply chains and logistics and closures of dealerships. Despite the continuing difficult conditions in many markets, production in the second half of 2020 stabilized at close to the previous year's level. To maintain production processes amid the pandemic conditions and protect our employees, we developed and agreed behaviors and measures as part of our Safe Production Initiative to prevent possible chains of infection between the people working in the network. These mainly include the obligation to wear face masks, adherence to behavioural rules, particularly regarding social distancing, hygiene requirements and ensuring regular ventilation, and the reorganization of shift models and breaks. We constantly review the measures taken to contain the Covid-19 pandemic and adjust them if necessary.
Productivity increased by 0.8% year-on-year.
"Intelligently networked" production strategy
Production is supporting the Group strategy TOGETHER 2025+ with its functional area strategy, "Intelligently Networked". By intelligently connecting people, brands and machines, we aim to pool the strengths and potential of our global production and logistics and take advantage of the resulting synergy effects. We are guided in this by four strategic goals:
Versatile production network
Efficient production
Intelligent production processes
Future-ready production
With cross-brand initiatives we have created content clusters in which expert teams work on the strategic topics relevant for production in the Group. Examples include the competitive design of our global production network, the reduction and offsetting of environmental impact throughout the production process, and digitalization with its implications for production and working processes and for collaboration. A scenario-based strategy process has been developed in the course of the transformation phase in production and is geared to an observation period running until 2040. The overarching aim is to increase productivity and profitability. We want to ensure that our locations remain competitive by having our factories work at optimal capacity, enabling us to manufacture high-quality products that give customers maximum benefits at competitive prices.
Global production network
The Group's production network encompasses twelve brands and 118 production locations, including our Chinese joint ventures. Standardizing production with uniform product concepts, plants, operating equipment and production processes is a key factor in our forward-looking production. We are constantly enhancing our production concepts and aligning them with new technologies to achieve ambitious targets in the individual projects.
The flexible production capacity provided by our platforms allows us to leverage synergies, respond to market challenges, make requirements-based use of the production network and realize multibrand locations. Currently, almost half of the 47 passenger car locations are already multibrand locations. The Bratislava site continues to serve as a prime example in the Group, producing vehicles for the Volkswagen Passenger Cars, Audi, Porsche, SEAT and ŠKODA brands.
The Volkswagen Group has set itself the goal of becoming a world-leading provider of battery electric vehicles by 2025. The basis for this is the introduction of the Modular Electric Drive Toolkit (MEB), which we are using to complement our range with additional battery-electric vehicles. We have been manufacturing battery-electric vehicles based on the MEB in Zwickau, the Volkswagen Group's first electric car factory, since 2019. One example is the ID.3 from the Volkswagen Passenger Cars brand. In 2020, the portfolio of the MEB platform was expanded in Zwickau to include the ID.4 from Volkswagen Passenger Cars as well as at the Mlada Boleslav location with the addition of the Enyaq iV from ŠKODA.
In order to design multibrand projects and electric mobility to be cost-effective in conjunction with existing concepts, it is necessary to make production flexible and efficient. Making maximum use of potential synergy effects is also a decisive factor for the success of future vehicle projects. Using common parts and concepts as well as identical production processes enables reduced capital expenditure and provides the opportunity to better utilize existing capacities. The future will also see electric vehicle projects at multibrand locations such as Hanover.
Production locations
Following the sale of Renk, the Volkswagen Group's production network, including our Chinese joint ventures, is now comprised of 118 locations in which passenger cars, commercial vehicles and motorcycles, as well as powertrains and components are manufactured.
With 66 locations, Europe remains our most important production region for vehicles and components. There are 24 sites in Germany alone. The Group has 34 locations in the Asia-Pacific region, five in North America, nine in South America and four in Africa.
Despite difficult conditions due to the effects of the Covid-19 pandemic, we carried out 81 production start-ups in the reporting year: 33 for new products and successor products and 48 for product upgrades and derivatives.
VEHICLE PRODUCTION LOCATIONS
Share of total production 2020 in percent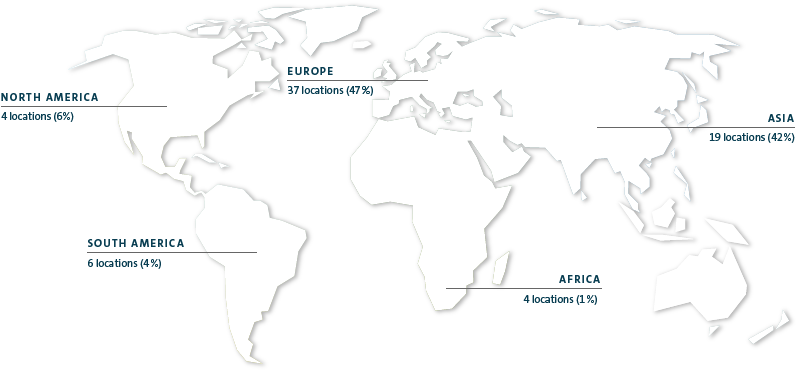 The Group's production system
The Group's production system provides methods and tools designed to bring about continuous, sustainable workflow improvements at all Group brand and regional sites in production and production-related environments. When refining the methods, we incorporate new topics and ongoing trends, focusing, for example, on digitalization and the switch to electric mobility. Digitalization in particular is opening up new areas of application, for instance through the use of digital data and models. Furthermore, digitalization also provides the opportunity to transpose existing methods into digital formats and create new, IT-based tools. In this way, we are taking advantage of the opportunities presented by digitalization and are making increased use of digital formats and digital tools in training courses and workshops.
The people in the Group play a pivotal role in anchoring the production system. We promote a culture of appreciative cooperation, in which leadership and individual responsibility are indispensable.
New technologies and digitalization
3D printing is still one of the key technologies for Industry 4.0 and digitalizing the automotive value chain. These technologies, also dubbed additive manufacturing, are being used successfully at nearly all Volkswagen Group sites in the manufacture of components and also operating equipment. They open up wholly new opportunities in the areas of development, design, production and after sales. Due to the digital nature of 3D printing, which requires no tools whatsoever, components and operating equipment can be flexibly implemented directly from digital drawings, and completely new designs and component geometries can be created. Developments for large-scale automotive production applications point to considerable potential for the future. To this end, Volkswagen leverages the diversity of the Group, achieved through close collaboration between its brands, and cooperates with leading technology providers and research institutions.
Augmented reality links the virtual world with the physical one and, as a mature technology, likewise plays a key part in the digitalization of the value chain – not least in view of ongoing restrictions on contact and travel caused by the Covid-19 pandemic. In this regard, there is potential to increase efficiency and innovative capability in areas such as remote support, employee training, quality assurance and the development process. Along with the implementation of new solutions that use data glasses, tablets or projectors as an output medium, existing augmented reality applications are continuously being rolled out to other Group sites.
The basis for the digitalization of the production system is often the harnessing of production data. One focus is the use of artificial intelligence on image data, the so-called "industrial computer vision". Here, the Volkswagen Group developed its own platform for the implementation of specific projects and is rolling out applications across its brands and locations. Examples include checking that vehicle license plates are correct or detecting cracks in the press shop.
Alongside new technologies, moving the IT architecture over to a cloud-based platform solution will be the main task in the coming years on the road to digitalized manufacturing. For this, the Volkswagen Group is developing, among other things, the Industrial Cloud in collaboration with Amazon Web Services and the integration partner Siemens. The cloud-based platform with its simplified data exchange is a vital prerequisite for making innovations available rapidly across all sites. Examples include intelligent robotics, related inline measuring systems, continuous quality control loops, predictive maintenance applications or data analysis functions for analyzing and comparing cross-plant processes. The cloud-based platform can be used to scale new applications directly to all sites and operate them centrally. The entire project will take several years to be implemented. Moreover, Volkswagen is creating its Industrial Cloud as an open platform with the goal of incorporating companies from the entire value chain in addition to its own locations. In the long term, the Volkswagen Group aims to integrate its global supply chain with over 30,000 sites of suppliers and partner companies into the cloud, creating a constantly growing, worldwide ecosystem.
In order to identify future innovations and new business models along the entire value chain, our open innovation approach enables an influx of innovative ideas and technologies from external start-ups, thus driving forward-looking innovations for our products, services and processes within the Volkswagen Group.
GoTOzero Impact Factory
We are planning the production of tomorrow with our functional area strategy, "Intelligently Networked". Emissions levels and the use of resources at Volkswagen Group locations require particular attention. The goTOzero Impact Factory program is developing specific steps for more sustainable production, with a vision toward creating a factory that has no adverse environmental impact.
We have developed a checklist to help the sites determine their status on the way to becoming a "Zero-Impact Factory". This currently comprises 140 environmental criteria and thus provides the basis for continuous reduction of energy consumption and CO2 emissions, for example.
To implement such programs, a new management system will be introduced at all production sites worldwide, linking the main compliance issues with environmental management. This environmental compliance management system provides a solid foundation for compliance with all external and internal rules relating to the environment for instance in the course of production processes.
We are encouraging networking and communication between the brands worldwide in order to leverage synergies. Our environmental experts meet regularly in working groups. In addition, we provide our employees with training on the topic of environmental protection.
We record and catalog environmental measures in an IT system and make these available for a Group-wide exchange of best practices. In the reporting period, around 1,520 implemented measures in the area of environment and energy were documented in this system. They serve to improve infrastructure and production processes for passenger cars and light commercial vehicles and are incorporated into the decarbonization index (DCI), for example. These activities are beneficial from an environmental and often also from an economic perspective as well as having a positive effect on the Group's environmental indicators.
GoTOzero Impact Logistics
In the joint "goTOzero Impact Logistics" initiative, Group and brand logistics departments work together to help achieve the goals of the goTOzero environmental mission statement. Continuous optimization of the transport network and logistics processes reduces emissions – this includes the use of digitalization tools. The use of new low-emission technologies for transporting production materials and vehicles will also be continuously analyzed and accelerated.
The measures the Volkswagen Group is taking to achieve future carbon-neutral logistics include, for example, moving shipments from road to rail and almost complete avoidance of CO2 through the use of green electricity in rail transport in Germany in collaboration with Deutsche Bahn AG.
Other examples of the use of the railways as a low-emission mode of transport are the delivery of battery modules to Braunschweig from the supplier in Wrocław, Poland, and the transport of battery systems from the component site in Braunschweig to the Zwickau plant in order to produce completely battery-electric vehicles.
In addition, Group Logistics is using the world's first two roll-on/roll-off (RoRo) charter ships powered by low-pollution liquefied natural gas (LNG) for transporting vehicles across the North Atlantic.